Tarcher's #FridayReads
Check out all the great books the folks here at Tarcher are personally reading (and get a sneak peek at upcoming books and projects)!
Joel Fotinos, Vice President / Publisher:
"I am reading Dearing Greatly by Brene Brown. I saw Brene's two TED talks, and they were excellent – and I happily discovered that Gotham/Penguin publishes two of her books. Daring Greatly is her newest, and it's excellent.  It's one of those books that I read and wish that Tarcher had published it!"
Mitch Horowitz, Executive Editor:
"I am reading The Steve Ditko Reader edited and introduced by Greg Theakston. It is a wonderful tribute to a one of America's greatest illustrators and comic-book artists."
Brianna Yamashita, Director of Publicity & Marketing:
"I just finished reading Moses Gates' Q&A (author of Hidden Cities) – you can read it yourself here!"
Sara Carder, Executive Editor:
"I am reading The New Soft War on Women by Caryl Rivers and Rosalind Barnett and it's getting me all fired up! The authors really lay down the facts in terms of unequal pay for women but they also offer great advice for women on how to fight against cultural biases that are holding us back. Often the biggest obstacles are in our own minds. Really inspiring and interesting! Can't wait to publish this in Fall 2013!"
Kevin Howell, Marketing Manager:
Still reading Sachi Parker's Lucky Me: My Life With—and Without—My Mom, Shirley MacLaine (Gotham Books) about being raised by a neglectful mother (Shirley MacLaine) and supremely dysfunctional and disturbed father in Japan. Her childhood is like something out of Dickens. I'm also reading Earl Stanley Gardner's 1935 mystery The Case of the Curious Bride, the fifth book in his Perry Mason series. Early Perry Mason is very different from later-day Perry Mason (Gardner wrote them until 1973). If you're a Raymond Chandler or Black Mask fan, early Perry is the way to go—he's much more hard-boiled and likely to plant and suppress evidence to win a case."
Gabrielle Moss, Associate Editor:
"I am still re-reading all these Dave Barry books that I bought in, like, the fourth grade. My current most wild and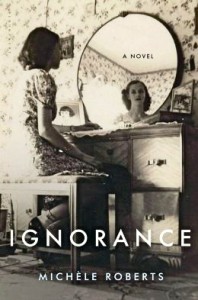 depraved fantasy is having enough free time to finish a book in a timely fashion."
**Editor's note: In case you were wondering, Dave Barry just came out with his new book: Insane City!
Gina Rizzo, Publicist:
"I am finishing up Ignorance by Michele Roberts, which is an exquisitely written tale of France during and after the Second World War. It follows two girls, basically from "opposite sides of the tracks," as they grow up.  Roberts' prose is extremely vivid and elegant, and I have been learning so much from it."
Andrew Yackira, Assistant Editor
"I'm about to begin a book called Portuguese Irregular Verbs by Alexander McCall Smith, which was recommended to me by my brother's mother-in-law over Christmas. That's about all I know about the book! Fun fact about my brother's mother-in-law though—she's related to the late, great Maurice Sendak of Where the Wild Things Are fame! She has framed, original pieces of his artwork hanging in her dining room!"
**Editor's note: So…we really want to meet your brother's mother-in-law. Actually, we just want to see her dining room. Does she charge admission?
Lauren Jackson, Publicity Assistant:
"I'm really getting into an upcoming Tarcher title: Fred Nadis' The Man From Mars – the first ever biography of Ray Palmer, who was called the "Son of Science Fiction" in his heyday. He was also the editor of some of the most well-known pulp magazines in the 1930s and 40s, like AMAZING STORIES and the more esoteric FATE Magazine. Also, he helped coin and popularize the term "flying saucer." How cool is that!?"
**Editor's note:  THE MAN FROM MARS is out in June! If you pre-order now, send proof of purchase to tarcherpublicity@us.penguingroup.com and we'll send you a book-related surprise!
Joanna Ng, Editorial Assistant:
"I'm reading Barbara Diane Barry's manuscript for Painting Your Way Out of a Corner, to be published by Tarcher in Winter 2014. The author takes a twist on journaling through painting, as an outlet for spontaneity and creativity to inspire self-discovery. As someone who tends to overanalyze and self-censure, I can't wait to buy my own set of watercolors and try out some of these techniques."